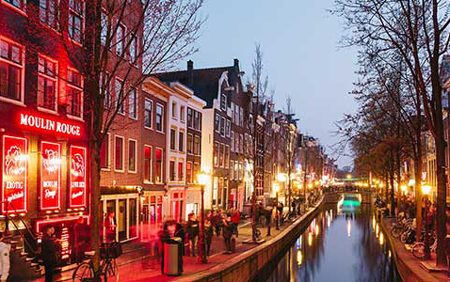 Project 1012
PROJECT 1012. Named after the postal code covering Amsterdam's city centre (including the Red Light District), Project 1012 is an effort to tidy up the downtown area. The strategy will drastically reduce the number of red lighted windows and coffeeshops in the heart of the city.
As part of the project, the owners of 26 coffeeshops have already heard in 2009 that they will have to close their businesses no later than June, 2015. Some of the coffeeshops have already closed down or transformed into lunchrooms, restaurants and cafes (read in our section closed coffee shops).
While the municipality generally does not issue permits for new coffeeshops, they held a lottery in 2013 to allow some of the shops in the 1012 Zone to move to other areas.
In January 2014 'The Grasshopper, one of the World's best-known places, was forced to close the coffeeshop in the basement. The owners continue to operate a restaurant and a bar.
The city hopes that the properties vacated by the red windows and coffeeshops will be re placed by neater businesses, in order to tidy up the city centre. There have been many protests, because many residents rely on tourists for their income and they're afraid that shutting down a part of the district will cause severe damage to Amsterdam's tourist industry. Figures from 2013 show that almost fifty percent of the eight million visitors is visiting the red-light district. Not necessarily to visit prostitutes, but just out of curiosity. Coffeeshops are also popular, a third of the tourists is visiting a coffeeshop, and again, not necessarily to consume drugs, but in the spirit of discovery.
It is unclear how prostitutes removed from their windows will be accommodated within the industry, or rehabilitated into other employment. Some fear that they will be forced to work in other types of brothels or in clubs, losing the independency that working in a window gave them. There's a danger that prostitution will be driven underground, removing the industry from the regulation and safety controls of the state.
Tags: stoned, stonedABC, project1012, redlight