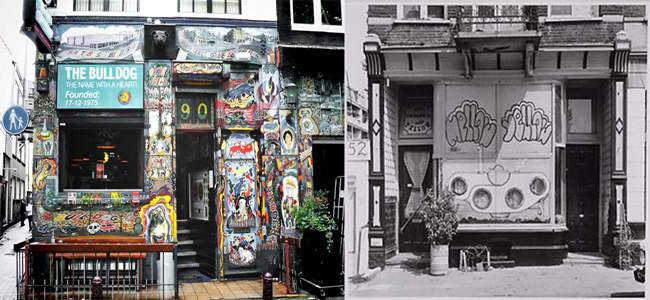 Coffeeshop vs Teahouse
In the early seventies a new phenomen occurred in Amsterdam, the coffee shop, where cold and hot beverages were served and soft drugs could be consumed. The legendary Mellow Yellow shop was the first one, located at an old bakery at the Weesperzijde, Amsterdam. However, due to its nature it was more of the first tea-house. The first coffee shop in Amsterdam would have been the Bulldog at the Oudezijdsvoorburgwal 90, also in Amsterdam, owned by Henk de Vries, who actually created the term coffee shop.
In an interview he stated "I wanted to make a connection with the coffeehouse, something I think was like a (second) living room for most people living in the neighbourhood. There were things going on there, like illegal sales of beer and liquor and slot machines hidden behind the curtains. This was not my intention, however. I just wanted to capture the feeling of a coffee-house with its atmosphere of a living room. At the same time I wanted to give it an international character, and as such the term "coffee-shop" sprang to life.
Tags: coffeeshop, cannabis, stoned, high, marihuana, Bulldog, teahouse, mellowyellow, henk, devries