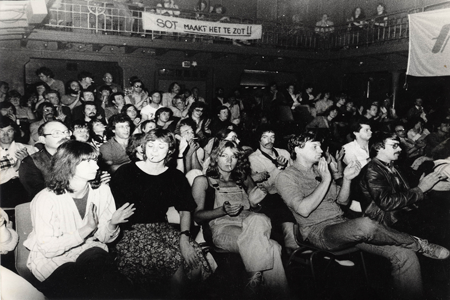 Paradiso
Around 1967 the hippies want to have their own club as well and have cast their eye on the unused building of the Free Municipality, presently property of the City of Amsterdam. Flower power frontmen like Willem de Ridder, Koos Zwart, Matthijs van Heijningen and Peter Bronkhorst are at that time negotiating with the city council about putting up a youth centre in the building. They have even come up with a name : Paradiso. But negotiations with the council don't really lead anywhere so therefore, in November 1967, they decide to occupy (squat) the building. About 50 people continue a "love in" that started in the Vondelpark at the squatted Paradiso, which the police immediately raids and closes down the festivities.
Willem de Ridder and Koos Zwart at the same month in 67 started out with organizing Provadya evenings at Felis Meritis, named after a Tibetan monastery, music and theatre happenings for the hippiecrowd. The place is small and it gets more crowded every week. Pressure on the council for a proper dwelling is increased, among others by publication of " Letter to a councilman" in de Ridder's music fanzine "Hitweek".
In the beginning of 1968 things are moving forward and the Municipal Foundation Leisuretimecenters Amsterdam is created, that will run the building of the Free Municipality for time being. The 9th of februari edition of "Hitweek" has an article on the front-page proclaiming Paradiso's opening, the 23rd of februari. As it happens, it was one month later.
Tags: amsterdam, hippies, 1967, willem de ridder, koos zwart, provadya, paradiso, stoned, stonednl, amsterdamculture, vondelpark, felise meritis